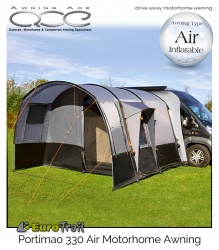 EuroTrail Portimao Air 330 Drive Away Motorhome Awning
The 2018 EuroTrail Portimao Free Standing Motorhome Air inflatable awning is probably the most complete drive away air awning available throughout Europe. Manufactured in the Netherlands the Portimao utilising super strong and very durable inflatable air tubes sewn directly to the inside of the awning fabric, so you'll never leave a pole at home again!. Carefully designed to make the awning easy to use and simple to pitch, the Portimao's coated polyester 185T fabric with heat sealed seams is strong, durable, UV stable and waterproof.
£899.00
£499.99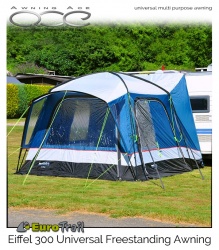 The Eiffel is a simple yet extremely flexible awning designed for either touring caravans or Motorhomes up to 2.6m. Constructed with dual awning beading to fit standard caravan awning rails with a fitting height of between 240 - 250cm or Fiamma Omnistore roll out canopies with narrow gauge awning channel up to a height of 260cm.
£499.00
£479.90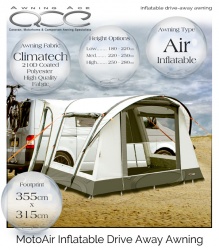 2018 CampTech Moto Air Inflatable Motor Home Awning
Brand New 2018 Model - Now with removable tub groundsheet.
Available in three height options, the Camptech MotoAir is suitable for campervans and motorhomes from 180cm to 280cm in height, just choose the model that best suits your vehicle.
From:
£469.00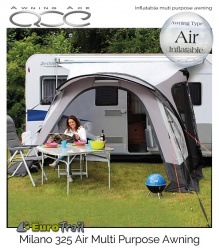 EuroTrail Milano 325 Air RV Multi Awning
This spacious awning offers a superb level of comfort during your precious breaks and holidays. With a very useable 325 x 265cm footprint, the 2018 Milano inflates in seconds with the high capacity pump provided. This awning is extremely adaptable and sits equally well on either a caravan or motorhome with a connection height between 250 -280cm.
£539.99
£459.90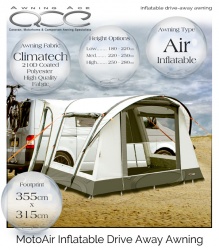 CampTech MotoAir Low Inflatable Motor Home Awning
Camptech MotoAir Low is suitable for campervans and motorhomes from 180cm to 210cm in height, The awnings rear tunnel is fitted with dual awning beading (both 4mm and 6mm) so can be attached directly to your Fiamma or Omnistore roll-out canopy or attached directly to standard awning rail.
£698.00
£445.00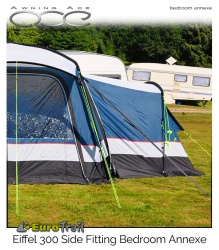 EuroTrail Eiffel Awning Annexe
Designed exclusively for the EuroTrail Eiffel Awning this bedroom annexe zips securely to either side of your Eiffel Awning provide additional sleeping accommodation or for extra secure storage.
£169.99
£159.90