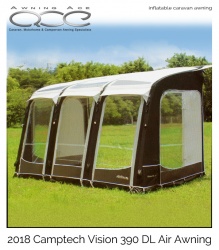 2019 Airdream Vision DL 390 Four Season Inflatable Awning
Brand new for 2018 Season, the Camptech Airdream Vision DL 390 offers an all season inflatable caravan awning made from ultra high-quality SR16 four season heavy duty awning material the Airdream 390 really is a touring caravanners dream.
** NOW IN STOCK for Immediate Dispatch **
£1,177.00
£736.00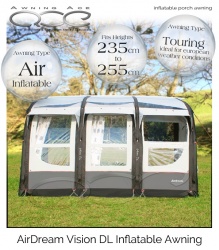 Airdream Vision DL Inflatable Heavy Duty Caravan Awning
With its stunningly good looks and modern colour scheme, the Camptech Airdream Vision DL is the ideal awning for demanding touring caravanner's, extended holiday campers as well as those who need a heavy duty awning which is incredibly easy to pitch, use, store and enjoy season after season.
£829.00
£499.00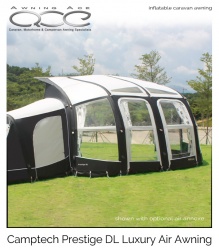 2018 Camptech Airdream Prestige DL Luxury Air Awning
Brand new for the 2018 camping season, the all new Camptech Airdream Prestige DL all season inflatable luxury caravan awning is set to be a best seller with it revolutionary, head-turning good looks and feature packed design.
** NOW IN STOCK for Immediate Dispatch **
£1,210.00
£579.00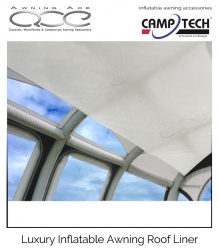 New Camptech Inflatable Awning Roof Liner
New 2018 Camptech Inflatable Awning Roof Liner
Suitable for Camptech Inflatable awnings produced 2017 to present day.
From:
£26.99