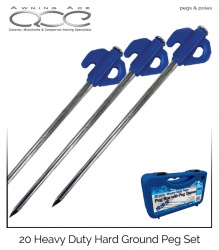 20x Heavy Duty Hard Ground Peg Set
20 high quality heavy duty pegs are ideal for hard ground conditions. Stored in their own compact case, they're the ideal solution for many awning applications. Ideal for hard standings.
£19.99
£15.69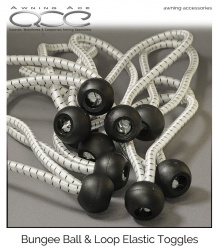 Bungee Ball & Loop (150 x 5mm) Shock Cord Toggles
Ball & Loop Bungee Cords are ideal for securing tarpaulins, trailer covers, flysheets and for attaching windbreaks and mudwalls to the ground or other camping equipment. Handy for storage and stowing equipment and extremely popular with caravan enthusiasts, boat owners and campers around the world.
£16.00
£12.99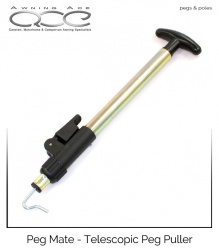 Peg Mate Telescopic Peg Puller
Telescopic Peg puller - take the back strain out of extracting your pegs. Allowing you to stand up and use the power in your legs and arms to safely and quickly extract your awning pegs with ease. No need to crawl around in the grass, the Peg Mate makes things simple.
£14.99
£11.49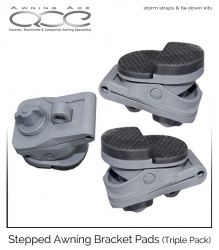 Awning Rail Bracket Pads (Triple Pack)
Awning Bracket Pads are used to connect your awnings frame to your caravan without permanent screws or fixings. Simply lock the bracket pad to your awnings internal 4mm beading (sewn directly onto almost every full awning) and slot the awnings internal frame pole into the loop. The awnings tension together with the beading maintains a secure awning pole fitting without causing damage to your caravan or motorhome.
These pads can be used either flat or stepped, you choose what best suits your awning and caravan combination.
£9.99
£10.29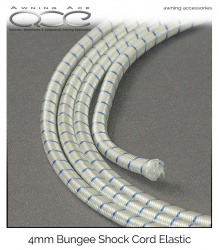 5m Bungee Elastic Shock Cord 4mm
5 metres of durable 4mm Shock cord; ideal for replacing elastic within tent and awning poles. Supplied in 5 metre lengths this strong elastic cord stretches to double its initial length and is perfect for many different camping, marine and caravan applications.
£14.99
£9.49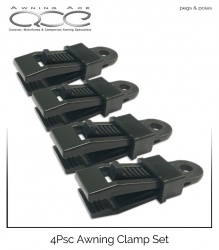 4x Awning Clamp Set for Mudwalls and Carpets
Superbly clever clamps which have so many uses. The Super-tough design will hold any fabric type up to 5mm thick, such as awning carpets, tarpaulins, awning mud walls or even picnic blankets, they just cling-on!. Sold in a pack of four they are simple, fast and effective and completely reusable.
£7.90