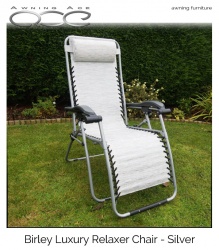 These extremely stylish Silver Reclining Relaxers look modern and provide style at an affordable price. The Birley Relaxer features a heavy-duty Textilene material that offers excellent durability and support. Equipped with moulded durable armrests and a luxuriously padded head rest, they allow you to take the weight away for a good sit down in the garden, at the beach, at the park, dog shows, outdoor events or even at the campsite.
£69.99
£47.99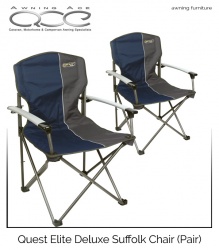 Quest Elite® Deluxe Suffolk Chair (Blue) Pair
Twin Pack
Made from high-quality Quest 600D fabric with superb padding the Quest Suffolk brings a new level of comfort to your caravan or camping holiday. Constructed using a durable steel frame, this robust and very strong chair with an attractive powder coating adds a touch of style and also improved weather protection.
£102.00
£74.99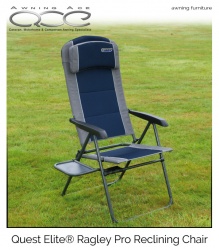 Quest Elite® Ragley Pro Reclining Camping Chair
The Quest Elite® Ragley Pro is the new and updated version of the best selling Ragley range. It has been improved on by the inclusion of the all new Q-tex material and improved design. The brand new Q-tex material is weatherproof, amazingly soft, comfortable and breathable.
£62.99
£44.69