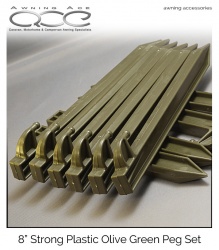 8" Strong Plastic All Purpose Ground Pegs
Strong and durable these 8 inch olive green all purpose pegs are ideal for a number of different ground types but are particularly suitable for soft, loose conditions where their large surface area helps to achieve better pitching. Made from injection moulded plastic these tent/awning pegs are very tough and are shaped to be easy to hammer into the ground. They have a hook and nipple end for better guyline security, preventing guy line slippage
£9.99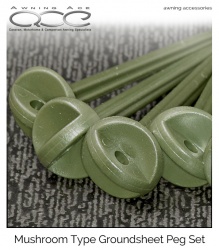 Groundsheet Mushroom Dome Head Pegs
Made from strong, durable materials these mushroom headed groundsheet pegs are designed to hold your awning or tent groundsheet or awning carpet in place safely. Their dome heads reduce the risk of tripping over traditional pegs as these sit closer to the ground.
£9.99
£8.99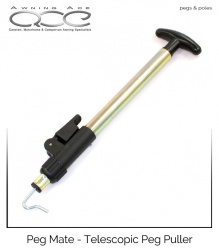 Peg Mate Telescopic Peg Puller
Telescopic Peg puller - take the back strain out of extracting your pegs. Allowing you to stand up and use the power in your legs and arms to safely and quickly extract your awning pegs with ease. No need to crawl around in the grass, the Peg Mate makes things simple.
£14.99
£11.49