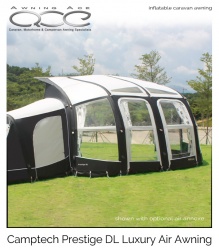 2018 Camptech Airdream Prestige DL Luxury Air Awning
Brand new for the 2018 camping season, the all new Camptech Airdream Prestige DL all season inflatable luxury caravan awning is set to be a best seller with it revolutionary, head-turning good looks and feature packed design.
** NOW IN STOCK for Immediate Dispatch **
£1,210.00
£579.00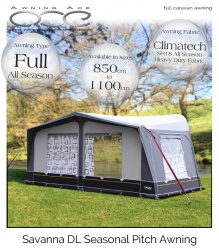 Camptech Savanna DL Size 9 Seasonal Caravan Awning
Manufactured for all weather condition, the Camptech Savanna DL is constructed from their unique Climatech SR18 heavy duty coated polyester fabric which oozes quality and feels amazing to touch. Providing the strength and durability required for seasonal campers, the Savanna DL is a real head turner and comes in two window configurations.
£810.00
£499.00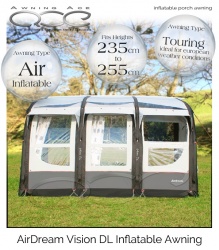 Airdream Vision DL Inflatable Heavy Duty Caravan Awning
With its stunningly good looks and modern colour scheme, the Camptech Airdream Vision DL is the ideal awning for demanding touring caravanner's, extended holiday campers as well as those who need a heavy duty awning which is incredibly easy to pitch, use, store and enjoy season after season.
£829.00
£499.00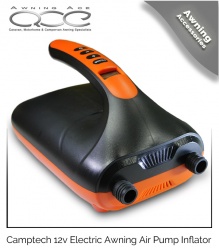 Camptech High Pressure 12v Automatic High Pressure Pump
Brand new for the 2019 season - Camptech's new 12v Two Stage Electric Awning Air Pump makes inflating your awning a breeze. Supplied with a generous cable length and 12v car/van cigarette lighter plug, this outstanding pump can inflate your Camptech Air inflatable awning without the need for a manually operated pump.
£83.49
£57.99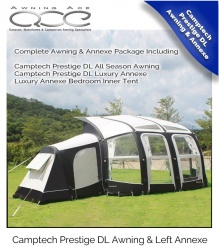 Camptech Airdream Prestige DL Luxury Air Awning Package
Brand new Camptech Airdream Prestige DL all season inflatable luxury caravan awning is set to be a best seller with it revolutionary, head-turning good looks and feature packed design.
** Complete awning and annexe package **
£1,400.00
£819.99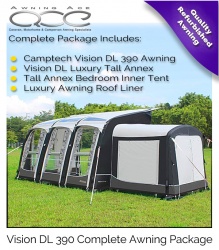 Camptech Airdream Vision DL 390 Four Season Inflatable Awning Package
Camptech AirDream Vision DL 390 Inflatable Four Season Caravan Awning
** ** ONLY ONE AVAILABLE ** **
COMPLETE LUXURY AWNING PACKAGE
SAVE OVER £390.00 today!
You will not buy better for less.
£1,292.02
£849.99