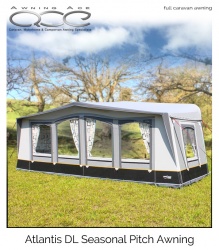 Camptech Atlantis DL Luxury Seasonal Awning Size 9
Atlantis DL is quite simply the ultimate seasonal caravan awning from Camptech. Designed from the ground up exclusively for seasonally sited caravan enthusiasts, with uncompromising build quality and unrivaled materials. Manufactured from exclusively developed Climatech SR21 extra heavy duty high-quality material, the awning is exceptionally strong,
£1,180.00
£600.00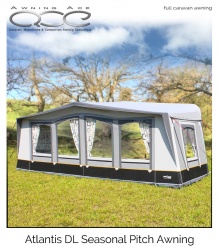 Camptech Atlantis DL Seasonal Awning Size 14 (Repaired)
Camptech Atlantis DL Seasonal Full Caravan Awning - Size 14 (Repaired)
£1,090.00
£650.00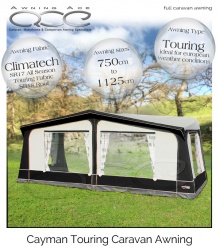 Camptech Cayman Touring Caravan Awning
A superb value full caravan awning aimed at the touring caravan market, the Camptech Cayman is manufactured from the incredibly durable Climatech SR17 all season coated polyester fabric, which is very easy to clean and super strong. Although competitively priced the Cayman full awning does not skimp on quality and has proven to be extremely popular with many caravan enthusiasts.
From:
£399.00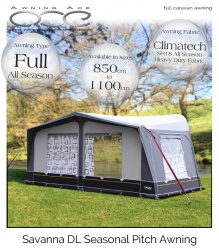 Camptech Savanna DL Seasonal Caravan Awning
Manufactured for all weather condition, the Camptech Savanna DL is constructed from their unique Climatech SR18 heavy duty coated polyester fabric which oozes quality and feels amazing to touch. Providing the strength and durability required for seasonal campers, the Savanna DL is a real head turner and comes in two window configurations.
From:
£559.00