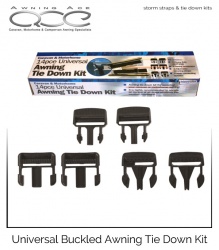 Universal Awning Storm Tie Down Kit
The Leisurewize universal awning tie down kit provide additional anchorage directly to your awnings flysheet via reinforced female buckles sewn strategically to the material by the awning manufacturer. Simple choose the compatible corresponding male connecting buckle; clip together and peg out using the heavy duty straps, tension springs and pegs.
£19.99
£26.49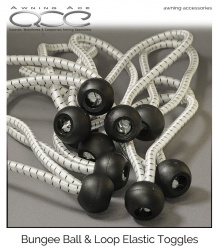 Bungee Ball & Loop (150 x 5mm) Shock Cord Toggles
Ball & Loop Bungee Cords are ideal for securing tarpaulins, trailer covers, flysheets and for attaching windbreaks and mudwalls to the ground or other camping equipment. Handy for storage and stowing equipment and extremely popular with caravan enthusiasts, boat owners and campers around the world.
£16.00
£12.99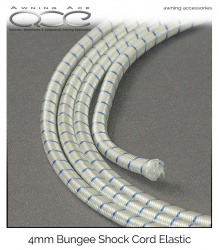 5m Bungee Elastic Shock Cord 4mm
5 metres of durable 4mm Shock cord; ideal for replacing elastic within tent and awning poles. Supplied in 5 metre lengths this strong elastic cord stretches to double its initial length and is perfect for many different camping, marine and caravan applications.
£14.99
£9.49