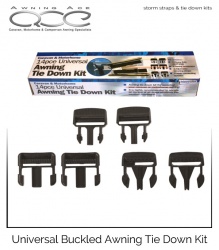 Universal Awning Storm Tie Down Kit
The Leisurewize universal awning tie down kit provide additional anchorage directly to your awnings flysheet via reinforced female buckles sewn strategically to the material by the awning manufacturer. Simple choose the compatible corresponding male connecting buckle; clip together and peg out using the heavy duty straps, tension springs and pegs.
£19.99
£26.49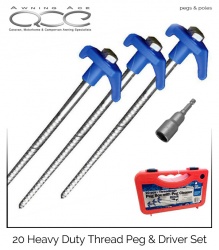 20x Heavy Duty Tread Pegs inc driver Box Set
20 high quality heavy duty thread pegs are ideal for hard and soft ground conditions. Stored in their own compact case, they're the ideal solution for many awning applications. Perfect for hard standings, loose and sandy conditions as well as firm grass pitches.
£24.99
£19.99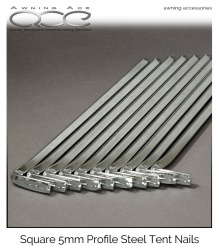 6" Steel Square Profile Awning Nail Pegs
These extra heavy duty, square profile pegs are the perfect solution for hard ground conditions. Made from ultra strong steel they have a clever square profile which increases the pegs surface area making for better ground adhesion. The driving edge is sharpened and tough enough for the hardest ground conditions making for easy pitching.
£19.99
£14.99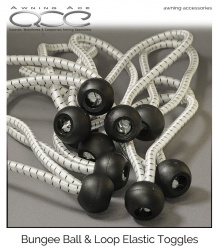 Bungee Ball & Loop (150 x 5mm) Shock Cord Toggles
Ball & Loop Bungee Cords are ideal for securing tarpaulins, trailer covers, flysheets and for attaching windbreaks and mudwalls to the ground or other camping equipment. Handy for storage and stowing equipment and extremely popular with caravan enthusiasts, boat owners and campers around the world.
£16.00
£12.99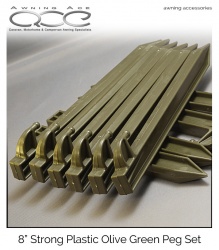 8" Strong Plastic All Purpose Ground Pegs
Strong and durable these 8 inch olive green all purpose pegs are ideal for a number of different ground types but are particularly suitable for soft, loose conditions where their large surface area helps to achieve better pitching. Made from injection moulded plastic these tent/awning pegs are very tough and are shaped to be easy to hammer into the ground. They have a hook and nipple end for better guyline security, preventing guy line slippage
£9.99