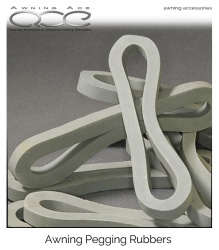 10 x Rubber Awning Anchor Rings
Used to secure your awning or tent, these 50mm rubber rings are just what you need to achieve the perfect pegging position without putting unnecessary pressure on your tent or awning fabric. Simple to use in a number of different applications, these pegging rubbers are an essential part of every camping or caravan equipment kit - supplied in a pack of 10
£9.99
£4.99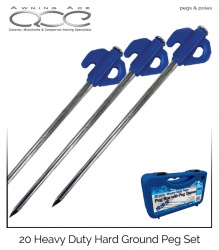 20x Heavy Duty Hard Ground Peg Set
20 high quality heavy duty pegs are ideal for hard ground conditions. Stored in their own compact case, they're the ideal solution for many awning applications. Ideal for hard standings.
£19.99
£15.69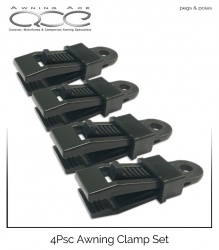 4x Awning Clamp Set for Mudwalls and Carpets
Superbly clever clamps which have so many uses. The Super-tough design will hold any fabric type up to 5mm thick, such as awning carpets, tarpaulins, awning mud walls or even picnic blankets, they just cling-on!. Sold in a pack of four they are simple, fast and effective and completely reusable.
£7.90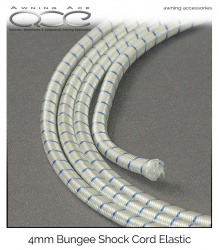 5m Bungee Elastic Shock Cord 4mm
5 metres of durable 4mm Shock cord; ideal for replacing elastic within tent and awning poles. Supplied in 5 metre lengths this strong elastic cord stretches to double its initial length and is perfect for many different camping, marine and caravan applications.
£14.99
£9.49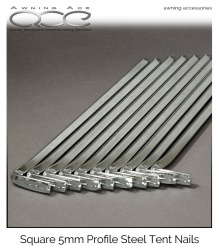 6" Steel Square Profile Awning Nail Pegs
These extra heavy duty, square profile pegs are the perfect solution for hard ground conditions. Made from ultra strong steel they have a clever square profile which increases the pegs surface area making for better ground adhesion. The driving edge is sharpened and tough enough for the hardest ground conditions making for easy pitching.
£19.99
£14.99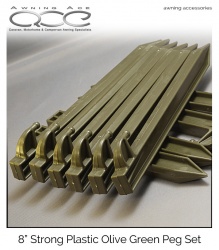 8" Strong Plastic All Purpose Ground Pegs
Strong and durable these 8 inch olive green all purpose pegs are ideal for a number of different ground types but are particularly suitable for soft, loose conditions where their large surface area helps to achieve better pitching. Made from injection moulded plastic these tent/awning pegs are very tough and are shaped to be easy to hammer into the ground. They have a hook and nipple end for better guyline security, preventing guy line slippage
£9.99