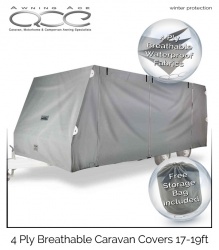 4 Ply Breathable 17-19ft Caravan Cover
Breathable 5.0 - 5.6m (17 - 19') caravan cover made from heavy duty 4-ply polypropylene fabric which is UV stable and highly water-resistant, giving excellent protection from the worst of the British weather
£69.99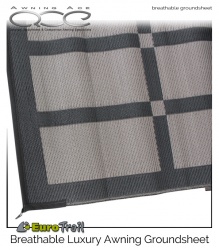 EuroTrail Patio Mat Breathable Awning Groundsheet
Stylish, soft and very durable these hard wearing awning groundsheets add a real touch of luxury to any caravan awning, tent or outdoor festival. Made from 100% breathable polypropylene with an attractive neutral design these awning groundsheets are grass friendly allowing the grass to breathe without damage.
From:
£64.99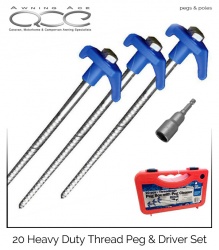 20x Heavy Duty Tread Pegs inc driver Box Set
20 high quality heavy duty thread pegs are ideal for hard and soft ground conditions. Stored in their own compact case, they're the ideal solution for many awning applications. Perfect for hard standings, loose and sandy conditions as well as firm grass pitches.
£24.99
£19.99
Caravan Dehumidifiers Rechargeable - Twin Pack
Help to protect your touring or static caravan, motorhome or even storage cupboards at home from the effects of damp and condensation with these rechargeable dehumidifiers. Ideal for caravans, motorhomes, and boats, home cupboards, drawers and wardrobes and areas where damp could become an issue.
£19.99
£19.90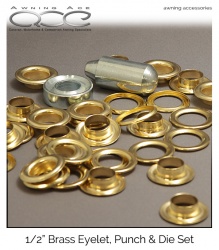 Brass Eyelet Kit Incl. Punch, Die and 15x Rings 1/2" (12.7mm)
Eyelet tools are an essential part of your camping and caravan tool kit. Ideal for repairing groundsheets, awnings, tents, canopies and many other applications. These 1/2" (12.7mm) Diameter Eyelets are simple, easy and quick to use at home or out and about on your camping holiday. The well respected Hipkiss brand is supplied as a total kit containing 15 x Eyelets, Punch and Die set.
£22.99
£17.99